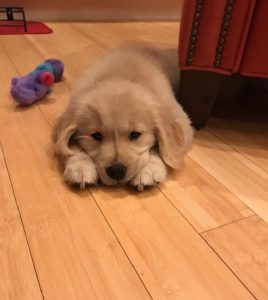 Our Goldens are bred for quality and soundness as well as ability to perform. Protecting the integrity of the breed and our bloodline is very important to us. Because of this our Goldens are sold with "Limited Registration" which means as "Pet Quality" and they are to be spayed or neutered. As part of our Puppy Contract, it is agreed that our Goldens will not be used for breeding.
All Goldens are owned solely by Bennington Hills Kennel.  All Goldens are OFA/Pennhip, CAER, Heart, Patella, LCP, Dentition, prcd-PRA  GR1-PRA  GR2-PRA Certified. Cleared for Ichthyosis and AKC Registered.
We require a return agreement on all Goldens sold by us. If for any reason a family/person can no longer keep one of our puppies, it must be returned to us with no questions asked. We do this because we want to be sure that our Goldens are always placed into safe loving homes. This is in no way reflected on the families/owners who cannot keep them, but onto us as a caring Golden Retriever owner who wants to know where our Goldens are and that they are being well taken care of.

All puppies have their first shot, have been wormed and microchipped before going home at 7 weeks old. When it is time to pick up your puppy, we ask for at least 1 hour of your time to go over any and everything, questions you might have forgotten to ask or just didn't think about. And of course, you can always call with any questions you may have after you arrive home. We also provide you with an ample supply of written literature on and about Golden Retrievers and about raising your new puppy.
Our American Golden Line range from $1800.00 to $2000.00 on a limited registration
Our English Creme Line is starting at $2200.00 to $2500.00 on a limited registration
Deposit: We require a $500.00 deposit on all English litters and a $400.00 deposit on all American litters. Once a deposit has been received it is non-refundable but is transferable to another litter provided there is availability. In the event that a litter fails or there is not enough males or females born your deposit is automatically moved to the next available litter. The acceptance of a deposit in advance is a courtesy provided to those wanting to reserve a puppy before the litter is born. We do not guarantee the number of pups nor the sex of pups that will be born in a litter nor that a litter won't fail mid term.
We do not guarantee your pick number until we have received your signed non-refundable deposit receipt.
The Breeder retains the right to keep 1st & 2nd pick male and female from any litter.
Full Registration: $4000.00 and up on both American and English.
Adult Sales: Occasionally throughout the year we have Adults to place into homes.
Shipping: Effective Immediately We will no longer be shipping puppies via cargo through Detroit Metro Airport  for the safety of our puppies. It has become more cost effective to fly into Detroit Metro or Flint Bishop Airports and carry your puppy in cabin with you on a turn around flight.
Stud Services are available to AKC Full Registered Females. We require proof that Hips, Hearts, Eyes and Elbows are certified. Must be OFA good or excellent. Must be Ichthyosis clear and have a current brucellosis test.
Stud Services to one of our Certified Males is $2000.00 to $3000.00 with three guaranteed ties. Stud service fees are non refundable.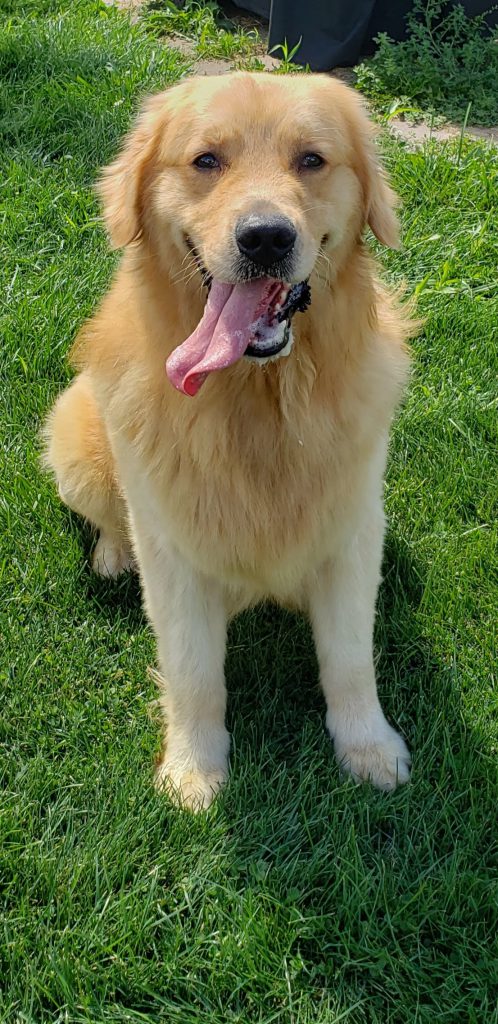 American vs English Creme Goldens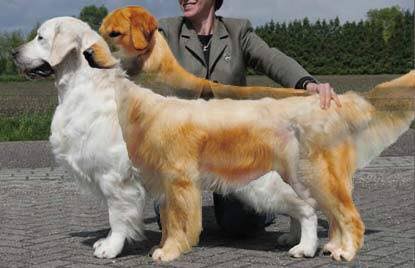 American Type
An American Golden is more slender than a European. A male usually stands from 23 to 24 inches (58 to 61 cm) in height at the shoulders, and females should be 21.5 to 22.5 inches (55 to 57 cm) at the shoulders. The males weigh 65-75 lbs. and the females weigh 55-65 lbs. American Golden Retrievers tend to be darker in color and a little more energetic, particularly in younger dogs.  However, American type Golden's are just as loving and companionable as their English counterparts. Their hair tends to be more fine, while the European's hair tends to be thicker.
English Type
The European Golden Retrievers are bigger-boned, shorter, with a more square head and/or muzzle and are generally slightly heavier. Males are usually between 56 to 61 cm (22 to 24 ins) at the shoulders and females slightly shorter at between 51 to 56 cm (20 to 22 ins). The British Kennel Club standard calls for a level top line and straight hindquarters without the slight rear angulations found in American lines. European Golden's tend to be lighter in color, some are nearly pure white. On a breeders scale, the lighter the better. Pure European puppies are all white with black eyes and a black nose. They also tend to be a bit more docile at an earlier age than the American Breed.
If you are considering a "Rare White Golden," keep in mind that Golden Retriever colors vary from very light to very dark, but do not include white. Purebred Golden Retrievers are never white, though some may be extremely light cream in color (highly desirable in by many). Today there are a number of people marketing what they call White Golden Retrievers, making them sound rare and exotic. Avoid anyone that advertises white Golden's – there is no such thing.
Please refer to the first picture in the last row of the picture gallery above to see a photo comparison of the two different lines.
Is a Golden the right breed for you?
So you've decided to purchase a dog. Owning a dog can be the beginning of years of enjoyment, however, you must be prepared for some important responsibilities. Remember, dogs are for life.
Always be honest with yourself. Are you prepared to have a dog for the next 11 to 14 years? The Golden Retriever you fell in love with because of his lush coat is indeed beautiful, but are you going to be able to brush this coat every day as it requires? Think about the size of your house or your apartment. Will that Golden Retriever be happy in your studio apartment? The Golden Retriever is a larger energetic sporting dog who requires a lot of exercise. Daily walks or free exercise are important to their physical and mental health, as well as socialization with other people and animals. Do you have a fenced yard so he can go out safely? If not, can you afford to install a fence?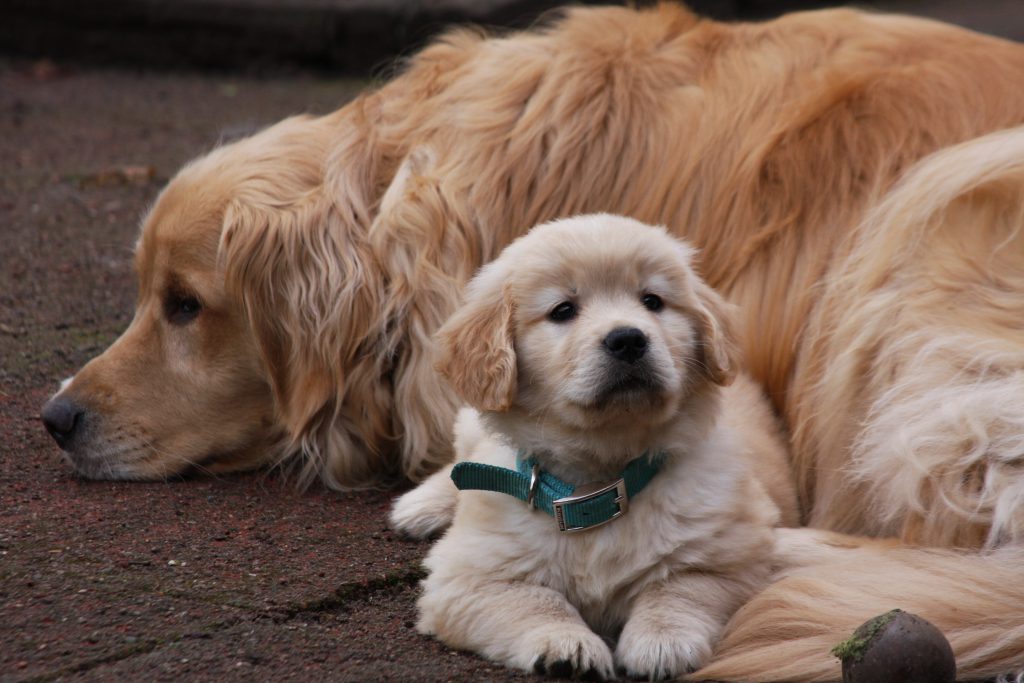 The purchase price of your puppy is not the only cost you have to consider. Be aware that the puppy you bring home will need proper care: food, health care, (a dog needs annual shots). Your puppy will also need little things like a collar with identification, a bowl, and a leash. Evaluate your budget; ask yourself if you really can afford a dog.
Being a responsible owner means considering your dog's lifelong health care needs, whether for preventive care or for unexpected accidents, injuries and illnesses that could happen at any time, however well you look after your dog. All dogs must be cared for daily. This means proper diet, exercise, grooming and veterinary attention. All dogs should be regularly examined by a veterinarian and inoculated against the major infectious canine diseases.
Make your dog a good neighbor through obedience training. A poorly behaved dog is a problem for everyone. Nothing is more frustrating than attempting to corral a dog that will not "come" when you call. A well trained dog is not only a pleasure to own, he is a goodwill ambassador for the entire canine community. A well-behaved dog is the result of the dog's owner being willing to work with the dog regularly in a systematic manner. Obedience classes are available in most communities.
Owning a dog is a big responsibility! Ask lots of questions; we all know there are no stupid questions. We will answer your questions and share our experience and knowledge with you.